Passion is what fuels us. It drives us to work hard, get up early, stay up late, and give more than we think possible. When our passion calls, there's nothing in the world more frustrating than something holding us back. That's what makes the new wired muscle stimulator by PlayMakar Inc. such a godsend for athletes. Gone are the days when a sore muscle means a halt in training and a trip to the physical therapist.
With the new PlayMakar SPORT muscle stimulator device, athletes can have a reliable, high-quality treatment tool with them wherever they go. The PlayMakar SPORT offers both TENS (transcutaneous electrical nerve stimulation) and EMS (electrical muscle stimulation) for a wide range of versatile training, treatment, and recovery options.
Powerful. Portable. Muscle Stimulator.
The Muscle Stimulator from PlayMakar is an incredible tool that is designed to enhance muscle performance. This portable, compact wired device is easy to bring along to any event, whether it be training or a game. It takes up hardly any space in a duffle bag or carry on. Its small design is easy to use and control in any setting, thanks to a thoughtfully backlit display.
Many athletes have been enjoying the advantages of applying electrical muscle stimulation before, during, and after a performance. This portable tool is perfect for using on the way to training or a game. When athletes apply electrical muscle stimulation before or during a warm-up, they should benefit from complete muscle contractions and increased blood flow that helps the muscles get ready for performance.
The rechargeable PlayMakar SPORT saves you money on batteries and time on training. This new electrical muscle stimulator comes with 10 preset programs tuned to the results that athletes want. It's an exceptionally versatile tool, but don't let that overwhelm you. These convenient presets make it easy to dive in and start exploring the benefits. For instance, athletes can tune their device to muscle warm-up before they begin training, or try the strength or endurance setting while they're hard at work.
The recovery and pain management settings are great for assisting post-workout therapy. These settings will make use of both TENS and EMS. TENS uses electrical signals to stimulate the nerve endings and help decrease pain. EMS uses the signals to stimulate muscles. This process helps to increase circulation and helps prevent swelling and stiffness. We made this device so that when athletes use the PlayMakar SPORT after a workout, they should not have to rely on expensive therapy or harmful painkillers. Instead, they are able to get quick, safe results from this portable, rechargeable tool.
PlayMakar Muscle Stimulator is Priced for Athletes at Every Level.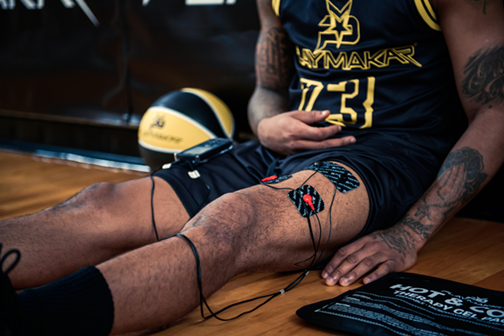 The new PlayMakar SPORT is not just for professional athletes. This muscle stimulator is good for pros, collegiate athletes, and even weekend warriors. Anyone who is looking to reach their peak performance in training will love what the new PlayMakar SPORT has to offer. With 25 different settings of intensity, two separate channels, and easy to use presets, the PlayMakar SPORT was designed to be a game changer. Best of all, it is competitively priced so that athletes at every level can afford high-level treatment.
Snag your PlayMakar SPORT at Dicks Sporting Goods, Academy Sports or at Playmakar.com. Get the high-quality, high-strength electrotherapy you need to make a difference in your training, performance, and recovery.