If you've watched or played a football game, it won't surprise you that this sport poses a greater risk of injury than any other popular sport. Players spend their time running, sprinting, tackling, and pivoting. There's a lot of room for injury, no matter the position. It's important for all athletes to warm up and practice good pre-workout routines to help avoid injury, especially football players. NFL athletes have found that an electric muscle stimulator can be a great tool in this process, and PlayMakar Athlete Kavon Frazier is putting the theory to the test.
Frazier has played for the Dallas Cowboys since 2016, and over the years he has managed to perfect his pre- and post-workout routine. His routine is enhanced with the addition of the PlayMakar, a portable electronic muscle stimulator that produces gentle muscle contractions for warm-up and recovery.
Warming Up for Football with an Electric Muscle Stimulator
As a safety for the Dallas Cowboys, Frazier can expect to put most of his muscles to use during each game. Before he goes into strenuous activity, Frazier should warm up like any professional athlete, paying special attention to areas like the knees and hamstrings, which are used heavily in football.
Frazier can take his pre-game stretches and conditioning one step further by using the PlayMakar while he warms up. The wireless electrode pads can be applied to whatever area needs special attention, be it knees, arms, or elsewhere. By increasing the blood flow to that area and causing muscle contractions, the electric muscle stimulator helps the muscles to relax and warm up before they're even put to use.
One of the best parts about the PlayMakar electric muscle stimulator is its mobility. Frazier can throw it in his bag and have it at hand, no matter where he's playing. He can even use the PlayMakar while he is en route to his next game.
Recovery with an Electric Muscle Stimulator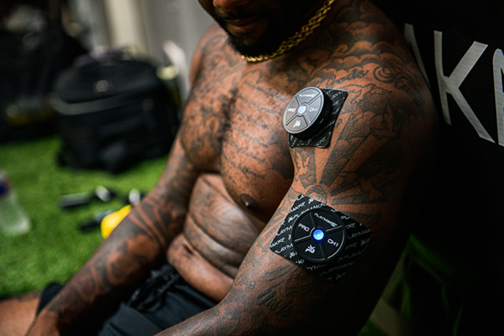 Turns out a portable muscle stimulator has come in handy for Frazier in more than one way. Frazier has it in regular rotation in both his pre- and post-game routine. He puts the portable PlayMakar to use after games and workouts to prevent swelling, inflammation, and soreness, and to encourage muscle recovery.
The therapy is designed to increase blood flow to the muscle it's applied to which decreases inflammation. Unlike common anti-inflammatories, electrical muscle stimulation is a safe way to help reduce inflammation and the pain that comes with it. In addition to causing potential side effects like stomach pain and headaches, anti-inflammatories can inhibit muscle growth. An electrical muscle stimulator, on the other hand, encourages muscle growth. It's an ideal solution for Frazier.
Frazier uses the PlayMakar Muscle Stimulator to regularly keep his muscles strong and ready for action. But, should an injury occur, he could also use it to quicken the recovery process. With injuries like a torn ACL or a torn meniscus being common among players of all ranks, an effective tool like the electric muscle stimulator is an invaluable resource.